Live chat is too much work
Nothing frustrates your website visitors more than the fact your Live Chat is left unattended.
They type something in, by the time you reply — they're gone.
With Continually, you can start responding automatically, out of hours — or across different time zones.
"My workflow was simplified by replacing Drift, Typeform and Calendly with one tool — Continually!"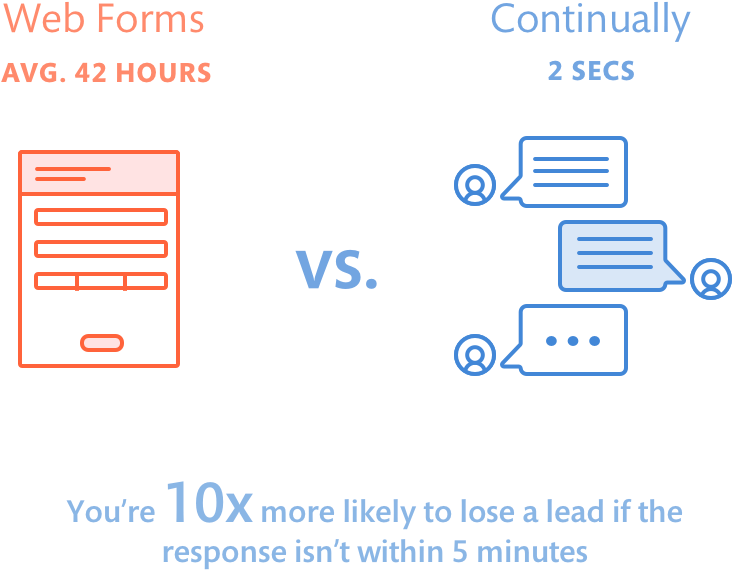 Businesses that respond faster close more sales
People's expectations on response times have changed, yet most businesses still offer impersonal web forms as the primary way to get in touch.
Forms usually ask for too much information, then you wait for days for a response — if you're lucky enough to get one.
Try Continually
"I tried standard live chat but enquiries would always come in as I was unavailable or in meetings — now I don't have to worry about missing out on leads"
How it works
Respond automatically and you'll never miss a lead.
Set up a series of automatic responses (or even a full conversation) to ensure you never miss a lead or help enquiry.
Save time with an automated scheduling assistant
Allow people to book meetings on your website based on the free time in your calendar—all without lifting a finger.
Just connect your calendar service, set your availability and you're good to go.
Qualify visitors with smart, personalised conversations
Create smart conversation flows and message sequences that allow you to switch context and direction accordingly.
Useful notifications in your inbox and your calendar
You'll know every time you get a lead or a meeting's been scheduled.
Rich lead profiles, so you're better prepared come meeting time
Cut down on manual research on your leads — we'll give you everything you need to know ahead of time.
Our Customers
Results in 1 hour
Find out how The Leads Agency saved time going from manually scheduling meetings by email — to automated bookings on their website.
Read story
Conversation templates
Templates are automated conversations designed around common marketing goals
View all templates →
Want to try it now?
Start converting more leads with less effort
Easy set up • No credit card required • Free in Private Beta