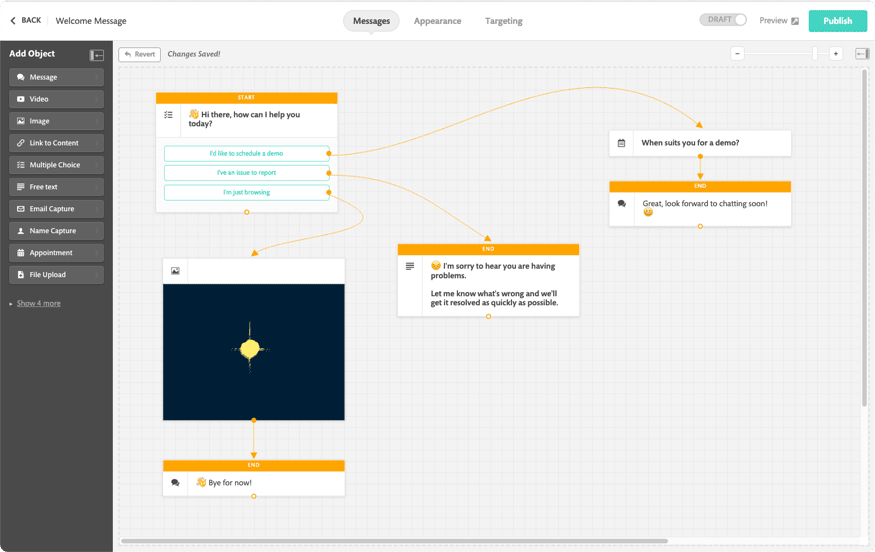 Re-arrange the flow of your bot just by dragging and dropping the objects
Create your first bot in 10 minutes. Or we'll do it for you.
Easy set up • No credit card required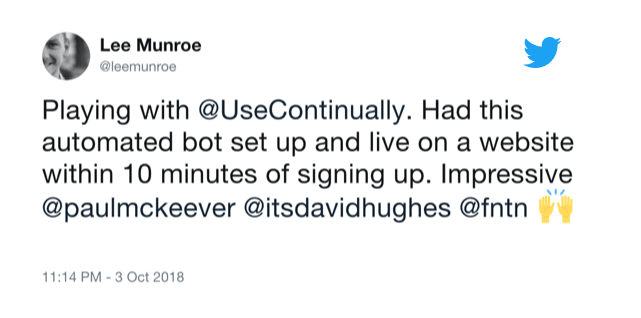 Add a bot to your website. No coding required.
Share images, videos, emojis and more
Drag & drop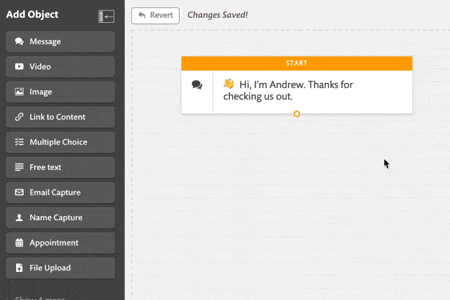 Edit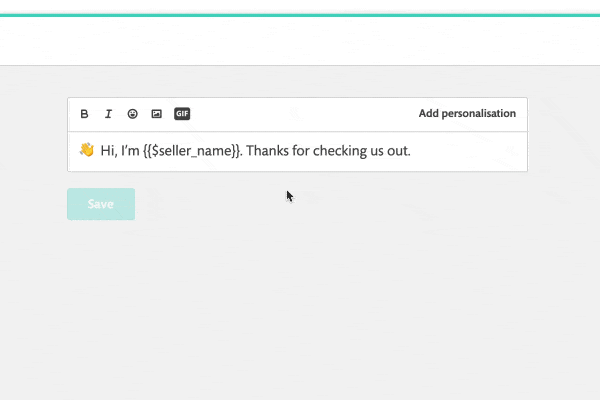 Connect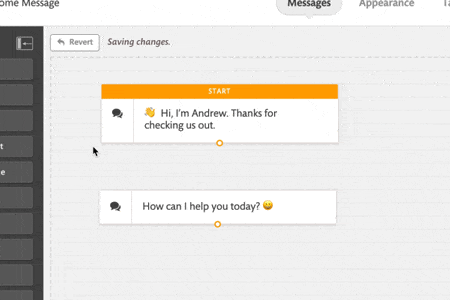 Customisation
Control how and when the bot starts
Use a welcome message to engage visitors, and style the bot to match your brand. Control how you want to engage visitors by showing the message:
when the page loads
based on visitors scrolling the page
after a delay with a timer
when visitors click a link or button
with custom JavaScript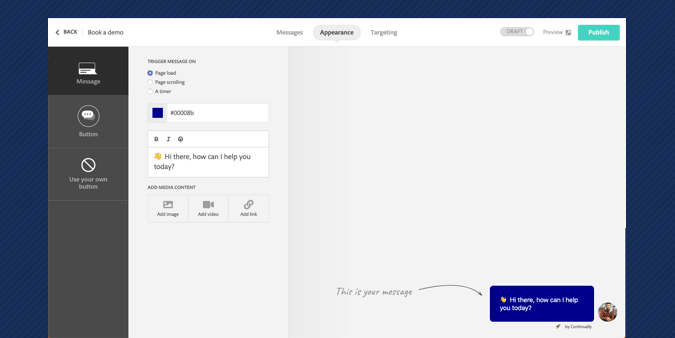 Targeting
Do more with multiple bots
Speak to each customer like an individual by building as many bots as your imagination will allow. Try adding bots for different customers or points in their buying journey:
Welcome bot for new visitors
Pricing bot
Add bots to your key landing pages
Ask blog readers to subscribe to your newsletter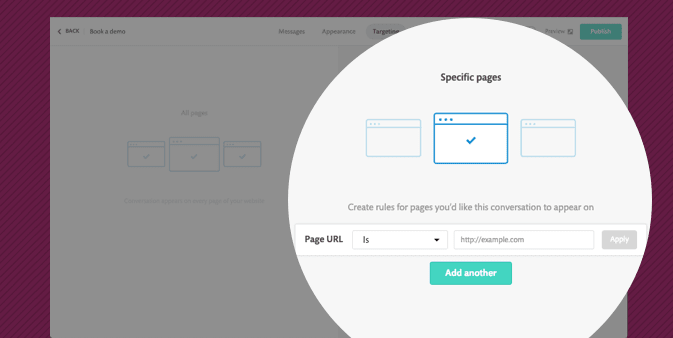 Customisation
Relevant, intelligent & personalised bot
Change the flow of the bot based on what visitors say. Use their answers in the bot and recognise repeat visitors.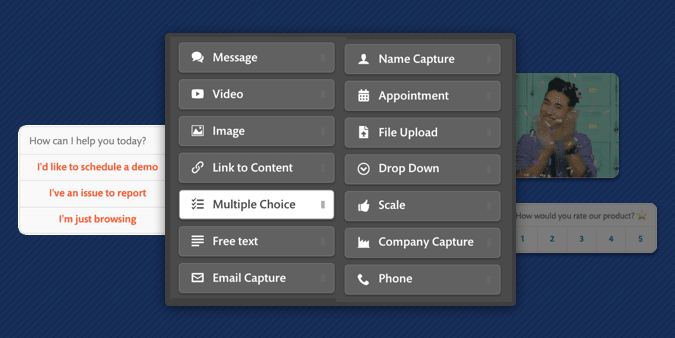 Lead activity
See all your activity at a glance
Get a comprehensive picture of visitor engagement with each bot. See individual lead profiles and export your data any time.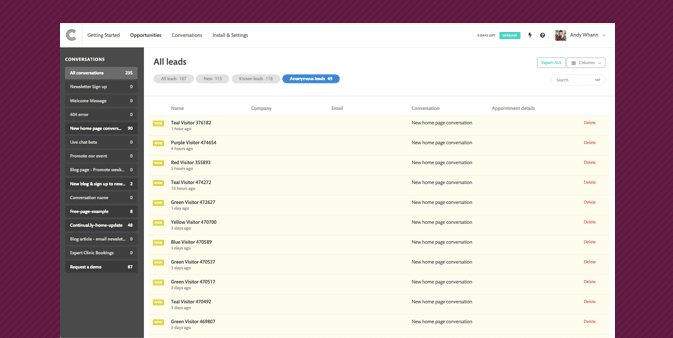 Use across multiple domains
Install Continually on as many websites you want within the same account and have all of your leads appear on a single dashboard.
Notifications
Keep track of any activity with notifications in Slack and by email.
A preview URL for each bot
Quickly test new ideas for bot flows, gather feedback from colleagues and make changes before you're ready to go live.
Track results in Google Analytics
See the impact that your bot bots are having by tracking activity in your Google Analytics reports. Fire GA events when users start a bot, provide their email address, book an appointment or close a bot.
Custom scripting (JS API)
Need something else? You can use Continually together with custom scripts by using our JavaScript API.
Live chat
Offer live chat when you're in the office and customers will get a reply quickly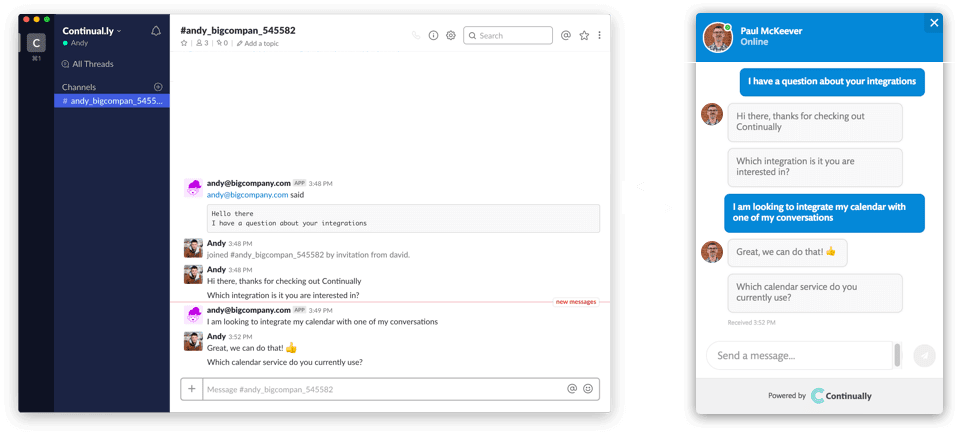 Read more about the benefits of automation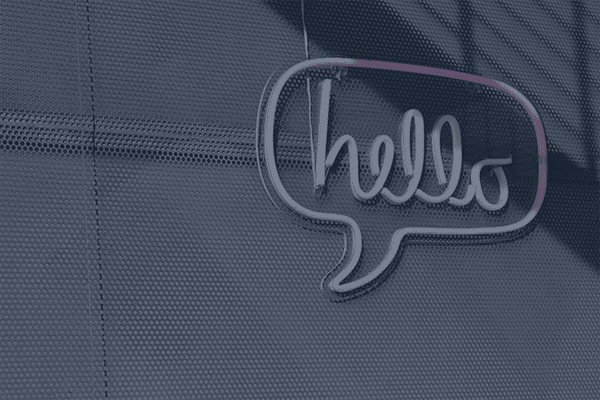 The big shift in recent years is that business is more personal, and messaging apps have been on the rise. But what do you do if you're not equipped to operate 24/7, or don't have the bandwidth to respond to every question as quickly as you'd like?
Read Story →
Get started with a free account
Reduce customer acquisition costs with a bot that works 24/7
Easy set up • No credit card required