Inbound marketing is more important than ever. But to make it really work, you have to build an integrated marketing system that helps convert customers every step of the way through their journey.
Building marketing campaigns can be some of the most fun ways to exercise your creative and strategic muscles.
If you've been working to build an audience organically, or putting hard-won ad dollars to work, you'll know that the success of those campaigns hinges on engaging visitors when they land on your site.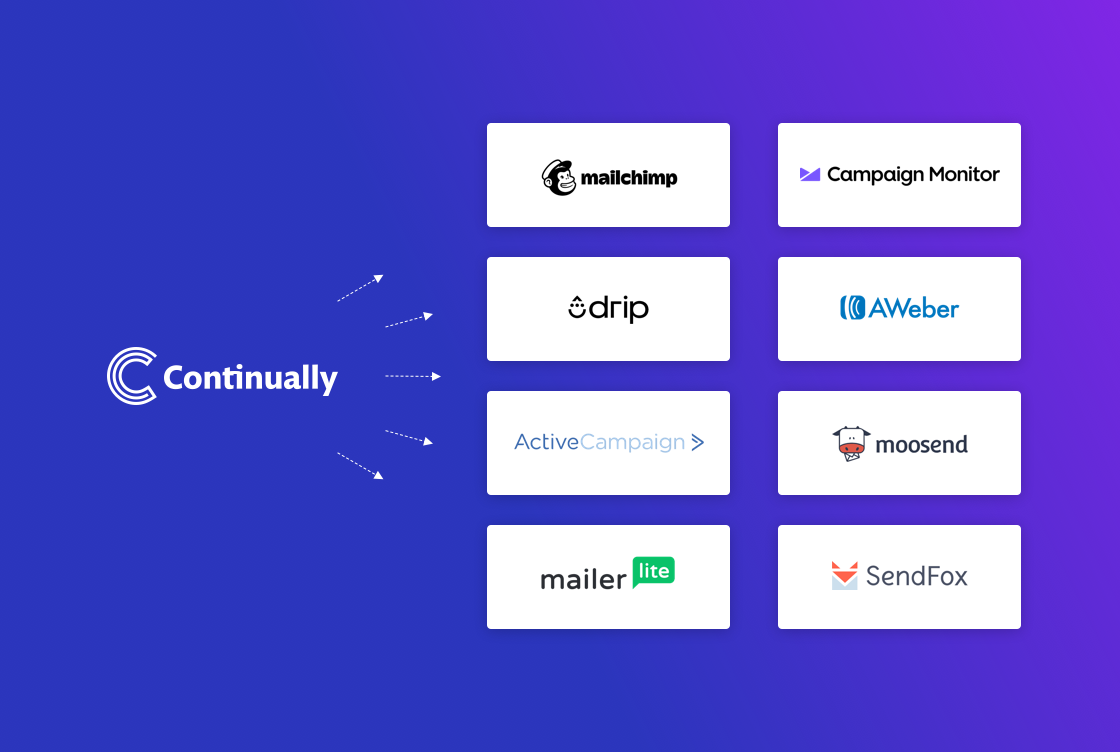 There are so many great tools to help you do that. But unless those tools work well together, you can end up with repetitive, manual tasks. And worse, if they aren't working as part of a system it can be slow and frustrating to make changes to your campaigns.
Here are five ways you can use your website chatbot alongside your other tools to get better results, without being overwhelmed 😀
1. Add personalized images to your bot
Use your customer's name, email - or any attribute you know - to create personalised images and GIFs to your bot using Hyperise.
See how we got the variable name printed on the GIF!
There are so many ways you could use this! Make it fun or professional, Use any image or GIF then personalise with any variable you capture via Continually!
Check out our step-by-step guide 👉 add personalised images and GIFs to your bot using Continually + Hyperise.
---
2. Sync leads to your mailing list
Email marketing is one of the most effective marketing methods in the digital world. A 2015 study by the DMA found that for every $1 spent, email has an average $38 return on investment.
Once your bot has engaged your visitor, you can send them an automated email sequence for follow-up.
For visitors who aren't ready to buy yet, you can ask if they want to receive an educational piece of content or get updates from your newsletter.
As well as automatically sending leads you capture with your bots to your mailing lists, you can add their responses to their profile and use them to send more relevant content.
Personalized emails are one of the most effective ways to achieve that ROI. They stand out within the inbox as relevant content. When personalization works, your audience will feel the content is made just for them.
Read more about how to use variables to personalise your bots, how to see the custom variables you've stored. When you connect to your email provider, you can map these variables to your email list.
You can now sync emails from Continually to SendFox 🦊, Campaign Monitor, Aweber, Active Campaign, Moosend, MailerLite, Mailchimp & more.
Make sure emails are valid
For your emails to be effective, you need to know that those addresses represent real people. Sending messages to invalid, inactive or undeliverable addresses damages your sender reputation and makes it less likely your emails will be delivered in the future.
We've integrated email verification from Clearout to help. When you collect email addresses through your bots, we'll automatically check to make sure it's valid.
Confirm consent for GDPR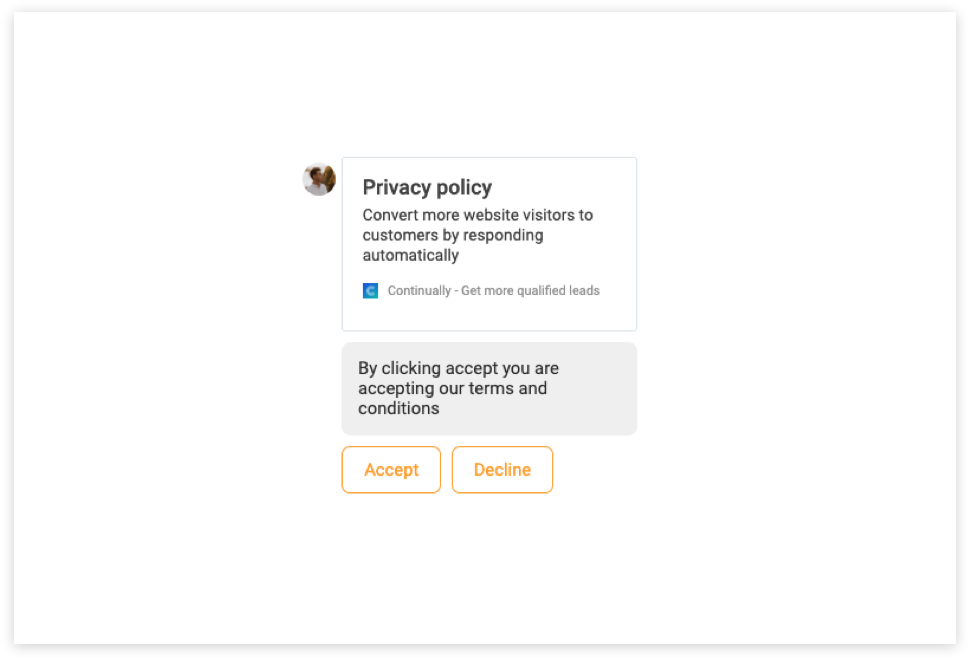 You can make sure you have permission to send email using our new GDPR object. There are 6 lawful bases for sending email, and the clearest is to have consent.
To get this, you can add:
A link to share more information on your privacy terms and conditions.
A message to explain that they are accepting these conditions.
Accept and decline buttons.
Whatever your visitors answer to this object will be stored in their lead profile under GDPR.
3. Use APIs to make your conversations more intelligent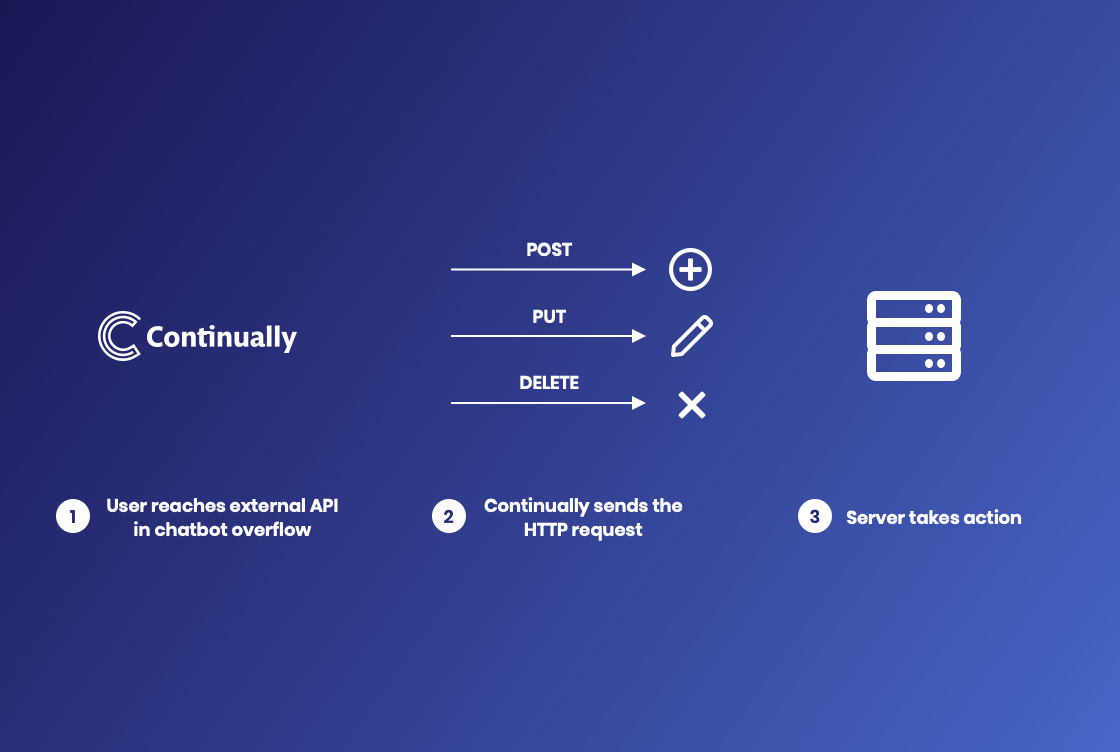 Create workflows that send HTTP requests to external web servers, API endpoints, and URLs. This allows your bot to integrate with almost any third party service or even your own server.
For example, you could create a workflow that sends a message to a messaging service, or that creates an item in a project management app.
---
4. Support customers when they have questions
Make it easy customers switch to use chat when they need help.
The team at HelpShelf help you combine all of your support resources into one gorgeous widget and then makes sure that it's available when it matters the most.
You can link to your Continually sidebar from inside your HelpShelf widget, with an easy to find Contact button.
When your users need to reach you, they'll be greeted with the exact same chat interface they've seen elsewhere on your website.
How to set up the integration:
Sign into HelpShelf and go to the setup page.
Click on the How you want people to contact you section
Click on +Add provider
Find Continually and connect!
---
5. Upgrade your lead magnets with a chatbot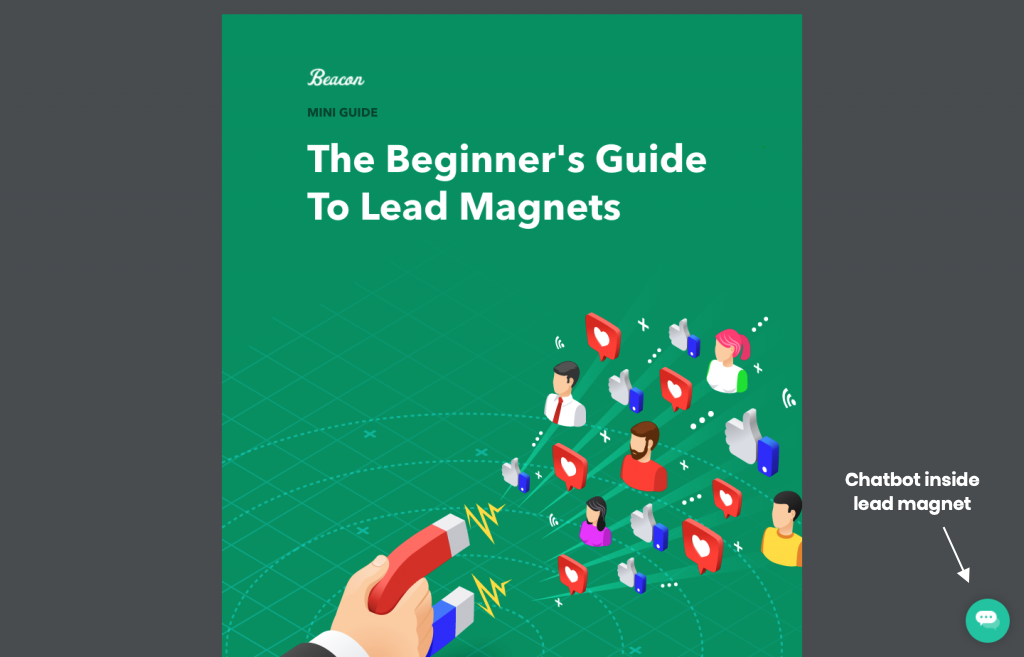 A great way to grow your email list is with professional lead magnets - ebooks or freebies - that persuade visitors to hand over their email address.
The team at Beacon have built an amazing content creaation platform that lets you start from scratch or import existing blog articles and have a beautiful lead magnet read in minutes
Beacon built an integration with their lead magnet (skim down through the PDF) + wrote about it here.
Chatbots work really well when visitors are engaged and ready to talk.
In the past, hosting a lead magnet as a PDF meant that once they started reading, there was no easy way to re-engage them.
With Beacon's smart PDF format, you can add a chatbot directly inside your lead magnet. Pretty cool!
Next time you're publishing a lead magnet in Beacon, open the Smart PDF settings and paste in your Continually embed code: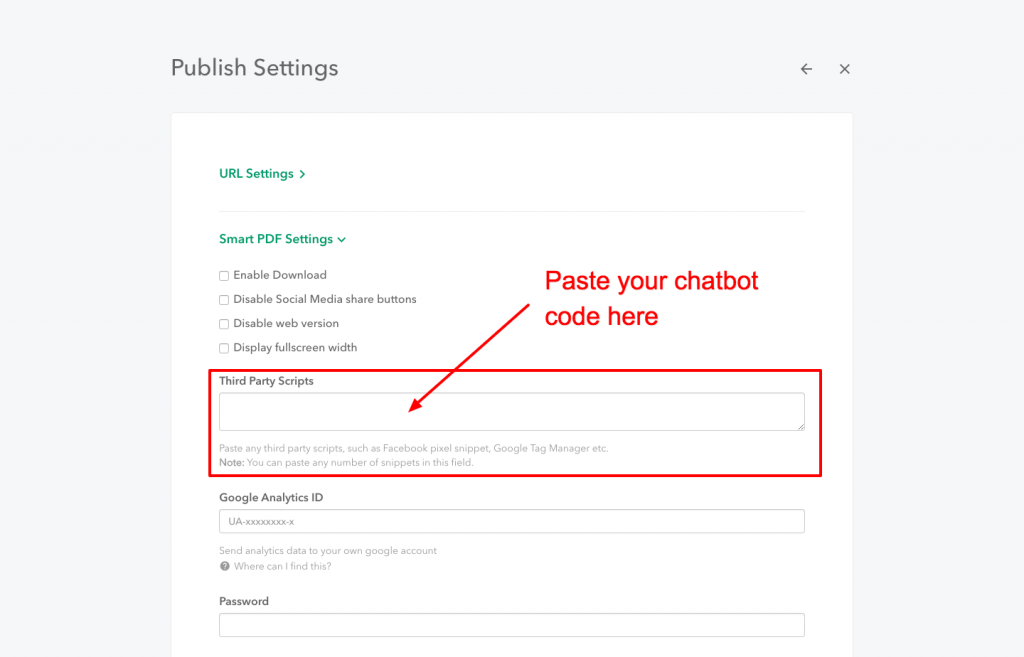 👉 check out Beacon's example lead magnet + chatbot
---
Share your ideas
We're always looking for opportunities to help you better engage customers using chabots. Having your tools work together can reduce the stress in your marketing tech stack and make it easier to automate things.
These integrations with other popular tools will help you convert more leads to customers and save time. We'd love to hear about any other ways you've been using Continually with other tools to level up your marketing tech 😀
---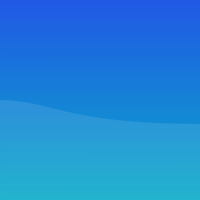 We help you convert more website visitors to customers by responding automatically
Learn more about Continually
→