By removing live chat from their site and integrating real-time bots that can interact with visitors on multiple time-zones, Prospect Labs tripled their monthly sales to both UK and US markets.
Prospect Labs Problems
Website pop-ups and automated messages were not working in the way I needed them to. They were too automated and not individual to the customer's needs. My live chat software was instantly prompting the user to book a call to speak to me instead of educating the visitor on how I can help them and understanding what their pain points were.
I had three key problems that I urgently needed to solve:
Covering multiple time zones
We work with startups both in the UK and the US. Having live chat on my site meant that I would be getting messages from 6am in the morning through to 11pm at night. The majority of conversations were not being responded to and I was losing valuable sales opportunities.
Educating website visitors of my services
During phone calls or meetings, I always ask potential clients a number of validating questions to learn more about them. This helps me to find out if they are the right fit for my services and how I can help them. I wanted a bot that could automate these questions for me.
Booking meetings into my diary
I know that if I can have a call with a potential client, 90% of the time they will convert into a paying customer. I wanted a software that could interact with a visitor and let them seamlessly book a call into my diary at a suitable time for them.
---
How Continually changed my perspective
Running a Lead Generation service for startups requires me to have an expert level of all growth-hacking and marketing software and I am always looking for new ways to improve. My preconception of 'chat bots' was that everything would be too automated and that by speaking to a bot would dilute the level of service I offer to a customer rather than improve it.
From using Continually I instantly learnt two key features about myself and my own processes:
Feature 1:
By creating a sequence of questions for the bot on my site, it made me realise the exact types of questions I should be asking to define the perfect clients. Now Continually is live on my site, I only speak to highly qualified leads as they have to answer a series of validating questions before they can book a call into my diary.
Feature 2:
By having a software that can adjust to what a visitor is looking for, I am speaking to less people, have more free time and making more sales. My site now asks visitors 'how their day is', it can make them laugh, it can show them bespoke case studies relevant to their industry, and it can let them book in a call. All of this is bespoke to how the user interacts with the bot.
---
How I set up Continually on my site
Signing up and getting started with Continually was all straight forward and once I had embedded the code onto my site, I began experimenting on what I could create. As soon as I had tested Continually, I felt I had to let the team know how excited I was!

The next day I arrived to work and asked all my friends and staff to test the newly installed software to try and finetune it. My goal was to create a bot that could:
Get to know the visitor and ask them how they are
See if the bot could make the visitor laugh
Give the visitor the option of fast tracking the conversation by booking a call straight away
Asking a series of questions to see if I could educate the user and build their trust
To see the chatbot in its entirety that I created please go to Prospect Labs and test it out.
Step 1
(Get to know the visitor and ask them how they are) I wanted to ask these questions: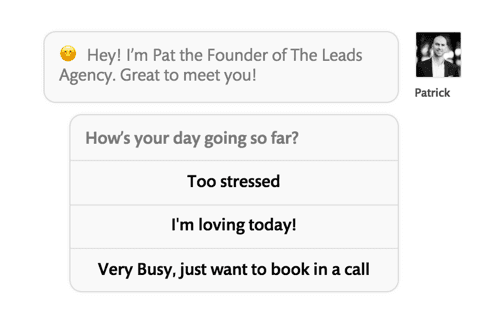 I am not trying to get an email address or book in a call, or demand the user to do anything, or even say 'I'm going to be a couple of hours but I will try my best to respond'. I simply want to ask 'How's your day going'
Step 2
(to try and get my visitor to laugh), I wanted to cheer them up. If they are 'too stressed' then they see this message: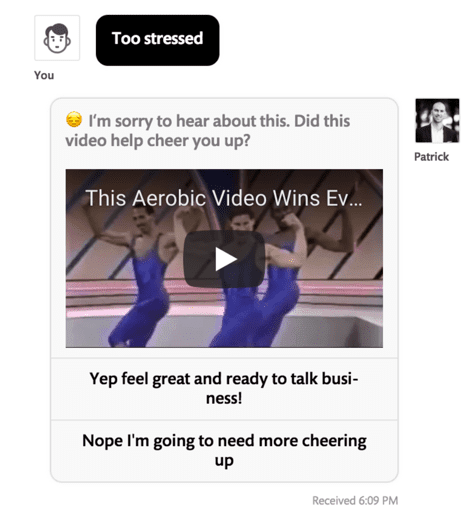 The only aim here is to be completely silly and light hearted - that is it! I think this video definitely helps (the moves on 24 seconds I am really trying to perfect).
Step 3
(Give the visitor the option of fast tracking the conversation by booking a call straight away) I added this button: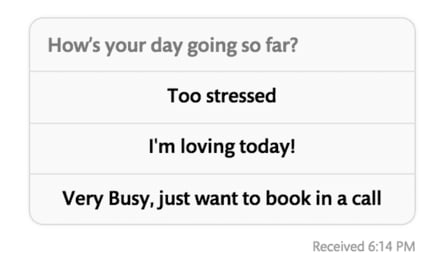 If they choose 'Very busy, just want to book in a call', it would lead them to the following: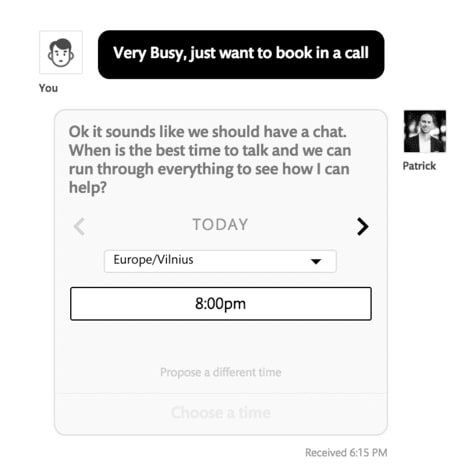 Continually has its own built in calendar booking function which integrates directly with the chat bot. It is so good that I direct people to my site now if they want to book in a call and it has completely replaced the extra spend and software I had been using before - YouCanBookMe
Step 4
(Asking a series of questions to see if I could educate the user and build their trust), I set up the following questions: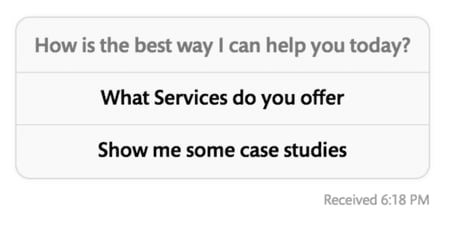 And if someone clicks 'Show me some case studies', this leads to: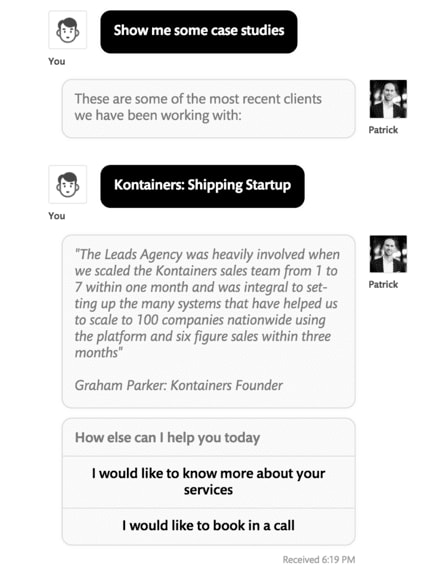 This bot is now building trust and making my website visitors laugh. I have spent years training sales people to have these skills and 4 hours of testing Continually and I had it!
---
The Results: £30,000 sales in two weeks
Within 2 weeks of being live on my site, I closed two deals generated from Continually worth £36000. The even more amazing part of this is, I nearly missed the leads as they came in on the very first day I set up the bot and I thought it was just my team testing things out:

As soon as I realised this was a genuine lead, I sent the following email to the customer:

From here, the customer replied, set up a call and we have now agreed to work together on the most valuable partnership I have ever agreed to:

I was completely blown away by the potential of what Continually software meant for my business:
I can interact with visitors, educate them and help them without having to use any live chat software
I can get people to book in calls into my diary without having to use Calendar software
I can have a software speaking to people on any time zone regardless of when I am working
I can make the sequences of my messages incredibly detailed and bespoke based on what a visitor is looking for, their mood or their buyer signals
---
Getting set up
To get started with Continually I recommend you book a demo with their team first to get an idea of how everything works and for some inspiration on the types of messaging you would use. You can book a demo in here:
Once you are set up with an account, I would advise to think of the following steps:
What is your end goal?
Are you trying to get more calls booked in, direct visitors to a certain page on your site or just to educate new users to the potential services and prices you charge?
What is the tone of your messaging?
Are you trying to make the visitor laugh, are you trying to keep their attention. Do you want to build trust or show how you compare with competitors?
What information do you want to acquire of a visitor?
Do you want to learn how a visitor found your site, or get their email address, name, or even what services they are interested in speaking to you about?
What is the flow of your messaging?
Do you want to make it easy for a visitor to book a call or do you want to direct them through a series of validating questions first?
Get started with a free account
Reduce customer acquisition costs with a bot that works 24/7
Easy set up
No credit card required
Free forever